The conversation options are all the options available during the chat session. The conversation options menu is on the upper right corner of the chat window in the form of three dots. The options the agent can choose among are the following:



Follow-ups - this allows the agent to forward the chat to a specific email address for further reference
Transfer Chat - this option allows the agent to transfer the chat to another agent, in case they are leaving or the other agent will be able to handle the chat better (more experienced)
Copy Conversation - with this option the agent copies the whole conversation by just clicking on it. This helps with providing a faster customer service
Back to List/ Show details - this option helps the customer switch between different interfaces
Block Visitor - with this option, the agent can block the visitor for 7 days (in case of a bad attitude or language, being disrespectful, etc.)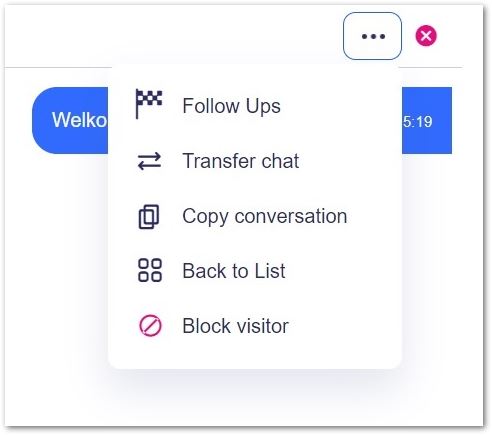 In case the chat is not active, some of the options will be greyed out and the agent will not be able to click on them.