In the exports section of the Main 'Chats' section, the following files can be exported:
Agent Activity - This report provides information regarding the duration of the operator's availability. In addition to that, you can use this report to determine which users were online during a specific time frame.

Agent Performance - This report classifies the behavior of the operators depending on the chat duration, time of first response, duration of online and offline status.

Agent - It is the static report, where you can see a list of the agents and their id, username, first name, last name, email, account id as well as the deleted agents.

Conversations - With this report, you are able to obtain information about the number of chats generated, data on the agent's behavior, and data on the visitor's behavior.

Automatic Invites - This report will tell everything that happened with the auto invites on the website for the chosen period of time. You will also see the invites that are not displayed because there were no available agents.

Hosts - The report allows you to review the info about all websites that were added to your account and to check whether the site is owned by one or more accounts

Traffic - this report provides all visitor's actions on your website (number of visits, visitors on the website, the quantity of viewed and accepted chats, and the number of automatic invitations)

Slots - This report shows an overview of the daily incoming chat and the behavior of the active agents of the day.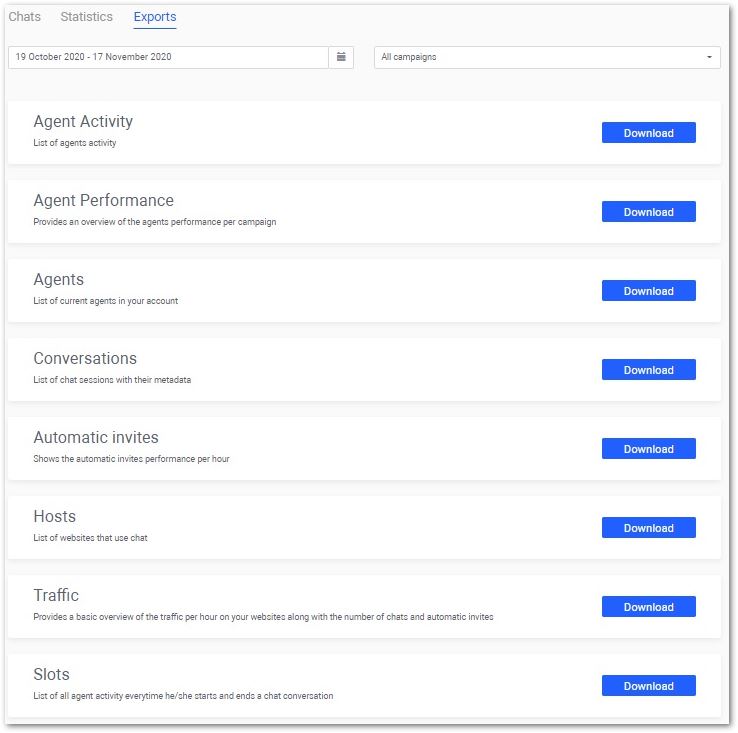 Underneath, there is the option where you can share each of the exports via a link. If not available, the export should be generated from the "Generate" button first. It allows you to generate a permanent link to a specific report with a secure token. With this token, the report can be downloaded without first logging in. An automated system can use this token to download the reports periodically.