The Boomerang option is available only for messaging apps. The Boomerang allows the chat to come back as active for the agent once they log in to their accounts 12 hours after the conversation was held.
With the Boomerang enabled, the chat will appear in the agent's interface 12 hours after their last/initial conversation. If the chat is boomeranged, the agent will see the orange boomerang indicator in the top right corner of the chat window as well as a message (Chat boomeranged) inside the chat conversation, visible only for the agent.
The conversation will be automatically closed/archived after 3 boomerangs or 24 hours of inactivity. When the boomerang is enabled all three boomerangs will count as 1 chat in the system.
When the Boomerang option is disabled for the chat, if the customer comes back, it will be a new chat to the system, but the previous conversation will still be visible for both the agent and the customer. The indicator of the boomerang and the massage for it, will also not be there.
The Boomerang option is enabled by default. So when the chat with the same customer was closed with the Boomerang option disabled, when he comes back, the option will be enabled again.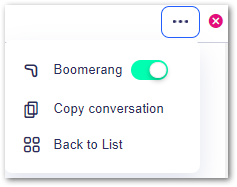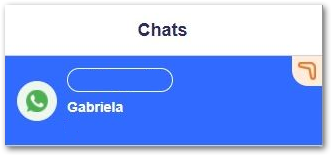 In case the boomerang option is on, if necessary, the agent can initiate the conversation with the customer. In case, the boomerang option is disabled from the toggle, the chat will appear only if the customer starts the conversation.