In the top right corner of the agent interface, you can enable or disable multiple settings. Users can set their availability, enable/disable sounds and notifications, show what colleagues are (in)active, go to the management environment (if you have these rights added to your account), and sign out.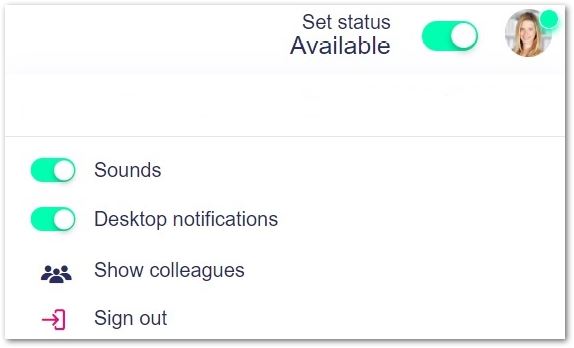 By setting the status to available you're accepting incoming chats.

Sound notifications will enable you to become aware of an incoming chat with a punctual sound alert.

Desktop notifications will display a pop-up whenever a new chat begins, and when a new incoming message is received through the chat channel.
All three notification settings are remembered. This means that if you have enabled sound notifications, the next time you log in the sound notifications will be 'on'. If you disabled sound notifications, the next time sound notifications will be 'off'.
Show colleagues will display all active agents, their status (available/away), the maximum number of slots they can handle, their active and wrap-up slots. This section has been designed to lead to a better global management of the live chat contact channel. More information on this below.

The account option panel allows you to go to the management environment in case you also have manager's rights.

The account option panel also allows you to sign out from the software.
Show colleagues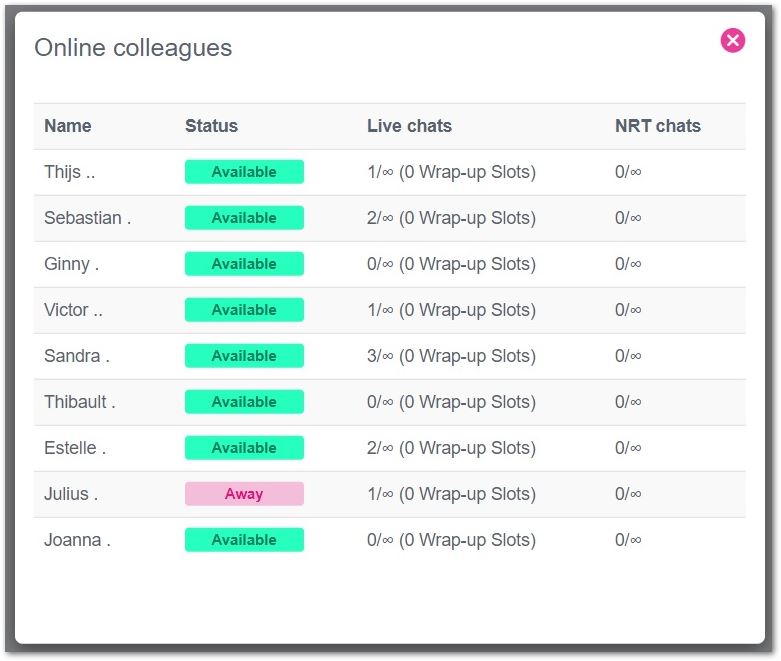 Please note that clicking on this section will not interrupt the chatting process in any way. Moreover, every data is updated in real-time, even if the 'Show colleagues' modal window is opened. Also, as this section is displayed throughout a modal window, you are requested to close the complementary window before going back to your dialogue activities, by simply clicking on the cross. Otherwise, it is possible to encounter certain delays regarding the provision of updates linked to chat data. New actual information will be updated every time you close and reopen the window.