The first step of having Conversation24 operational on your website is the registration process. Create an account, log in, and get started! It's as simple as that, plug & play.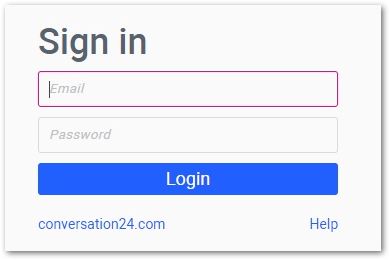 The first step of the subscription is filling in your business email. If you received a promo code for the software, this can be filled in at this stage as well. In order to continue the subscription, you must agree to our terms & conditions and processing agreement.
Password generation
During the user creation process, or while modifying the password of an existing user, you will need to comply with security standards regarding passwords. In order to ensure the possession of a well-secured password, users are able to click on the 'Generate' button. Thereby, you will launch the creation process of a random password in accordance with our security regulations. Your password needs to comply with the following conditions:
At least 12 characters

3 different character types

Maximum 300 characters
The system will notify you if the password you entered manually can be registered or not, by displaying either a red cross or a green check sign. Furthermore, every time you click on the 'Generate' button, a different password will therefore be created.